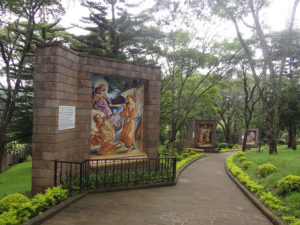 The way of salvation for man starts in a garden, precisely the Garden of Eden with Adam and Eve. These our first parents experienced the presence of God but they misused it through their disobedience. This history of salvation is narrated in a series of seven mosaics realized and fixed in situ by Mr and Mrs William and Rosanna Bertoja of Friul Mosaics of Pordenone in northern Italy.
This narration in the Resurrection Garden starts with this fall of Adam and Eve (1st Mosaic) narrated in Genesis 3;10-15. God then establishes a covenant with man at Mt Sinai where He gave to Moses the 10 commandments (2nd Mosaic – Exodus 20:1-7). At the fullness of time, the Angel Gabriel was sent to Nazareth to a virgin called Mary to announce that she would give birth to the expected Messiah (3rd Mosaic – Luke 1:26-38). Eventually, Jesus was born in Bethlehem of Judah in a Manger (4th Mosaic – Luke 2:1-7). He started His salvific mission by His preaching in the company of His disciples – the Sermon on the Mountain (7th Mosaic – Mathew 5) and His teachings through parables – the Prodigal Son (6th Mosaic – Luke 15:11-24). He then fulfilled the messianic promises by His care for the poor, the less fortunate, the sick – the healing of the paralytic (5th Mosaic – Mathew 9:2-7).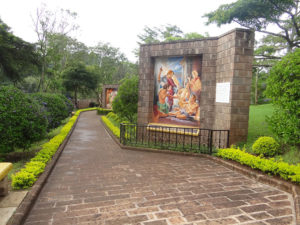 Through this Way of Salvation, each pilgrim who visits is reminded that he/she is a garden of God, and thus never to misuse that presence of God. Jesus came for our Salvation which He realized by His suffering, death and Resurrection. Thus, after the Way of Salvation follows immediately the Chapel dedicated to the Last Supper of Jesus and then the Way of the Cross – His passion.