Otunga was born in Chebukwa, in the district of Bungoma, at the end of January 1923. He was the son of Wasike Lusweti Sudi, Paramount Chief of the Bakhone clan of the Bukusus, and Namisi, a traditional diviner and one of the chief's many wives. Chief Sudi was impressed by his face and chose to call him Otunga, which refers to a staff which supports the old or lame.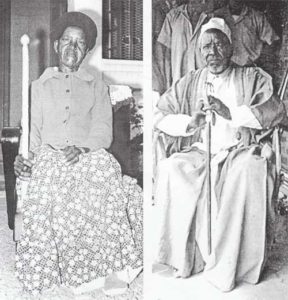 Like any other Bukusu boy, Otunga spent his early years at the homestead of his father. Namisi taught him the first tenets of their traditional religion and was content on educating him on her own. However, Chief Sudi, a man who saw the valued of formal education, had his eight-year-old son enrolled in a school at Kibabii in Kanduyi (Bungoma) in 1931. Two years later, he was transferred to a school in Sijei (Bungoma).
Both of these schools were supervised by the Mill Hill Missionaries who had been evangelizing the then-apostolic vicariate of Kisumu since the beginning of the 20th century. It was in this environment that Otunga was introduced to the Catholic faith. Having learned his catechism sufficiently, Otunga was deemed ready for baptism by the head catechist. At first, Chief Sudi refused his son's request to become a Catholic. Thinking that the boy's eagerness would later fade away, nonetheless, he later relented and allowed him to be baptized.
On 1 September 1935, Otunga, along with several women and men, were baptized at Kibabii by Fr. Leon Puylaert, MHM, and Fr. Ferdinand Fent, MHM. On that occasion, he was christened Maurice, in honor of the widely-venerated Egyptian martyr of the 3rd century. Many years later, Otunga would recall that "at baptism, I felt like a different person. I felt it."
That same year, Otunga continued his studies at Kabaa High School in Mwala (Machakos), a school founded and administered by the Holy Ghost Fathers. In 1939, he and several students were moved to Mang'u (Gatundu North, Kiambu) where the secondary division of the school was transferred. That same year, however, he returned to Kabaa to receive confirmation from the hands of the Servant of God Bishop Joseph Shanahan, CSSp, on 29 September. In honor of the saint of that day, he was confirmed with the name Michael.
On returning back to Mang'u in October of that year, Otunga and his principal, Fr. John Joseph O'Meara, CSSp, began to make plans for him to read History and Education at Makarere College (now University) in Kampala (Uganda).  But something deep in his heart was growing intensely: "… that little thing in his heart told him to go to the seminary.
Firmly convinced that he was following the will of God, Otunga dropped his plans to go to Makarere. He returned home to reveal to his parents his desire to begin seminary studies. Chief Sudi remained silent for more than a day after hearing from his favored son.  As the hours went, relatives spoke more openly against Otunga's decision. Chief Sudi then spoke, "Let him go and find out for himself. I've seen many go to… the minor seminary and later leave. Let him go."
With his father's permission – and in spite his father's doubts – Otunga entered St. Peter's Seminary in 1943. Two years later, he went to Uganda for philosophical studies at St. Mary's National Major Seminary in Ggaba. During all this time, Chief Sudi was pressing him to end his seminary studies and take over his role of paramount chief. But Otunga did not give in.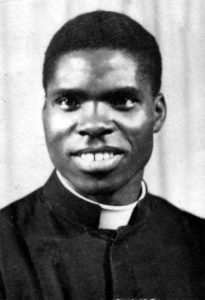 In 1947, Otunga was sent to Rome to study theology at the Collegio Urbano. He came under the rectorship of Fr. (later Cardinal) James Knox who esteemed Otunga in a unique way and with whom he would later work in Kenya.
On 3 October 1950, Otunga was ordained a priest. In 1951 he was granted his Master's Degree in Theology and returned home to Kenya.
His superiors felt that it would be best for him to be assigned as a teacher at St. Peter's Seminary in Kakamega. In 1953, he was sent to Mombasa to serve as the private secretary of Archbishop Knox, his former rector in Rome who had been appointed as Apostolic Delegate of the British East and West Africa, a zone that included 72 national jurisdictions. Archbishop Knox used to send Fr. Otunga to many places, which gave him a wider insight into the condition of the faithful in East Africa.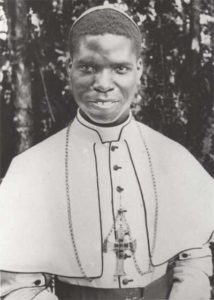 On 17 November, 1956, Pope Pius XII appointed Fr. Otunga as the Auxiliary Bishop of Kisumu. With his consecration, Otunga became the first Kenyan to be elevated to the episcopacy.  He served in this office for about four years and encountered some difficulties in the process.
In June 1960, the Holy See created the Diocese of Kisii and entrusted to the local clergy, under the leadership of Otunga as its first Bishop. He set himself immediately to delegating responsibilities in the diocese to the local clergy and laity. Bishop Otunga implemented staff changes in the Catholic schools of the diocese and prepared native priests to become headmasters. He laid a strong foundation for the diocese and developed it through a number of social and developmental programs, with the help of various religious congregations of brothers, sisters and lay people. Bishop Otunga ensured that each parish established self-help projects to cater for the needs of its poor members.
In 1969, Pope Paul VI appointed Bishop Otunga the Coadjutor Archbishop of the Archdiocese of Nairobi. At the retirement of Archbishop John Joseph McCarthy, CSSp, in 1971, Bishop Otunga was installed as Ordinary of Nairobi.
Archbishop Otunga faced many challenges on taking office. The city of Nairobi was growing in size and, as the capital of Kenya, it occupied a special place in the nation. Worse, he found himself heading an archdiocese with only six diocesan priests and eight Holy Ghost Missionaries. He immediately began promoting and encouraging vocations to the diocesan priesthood. On the same time, he invited many religious congregations – for both women and men – to come to the Archdiocese and help him build the local church. The vast experiences of Archbishop Otunga, and the strength of his personal prayer life, kept the better of him. While being strong and firm, he remained warm and willing to take sacrifices for the Church. To the priests, laity, and religious in his fold, he exhibited an unforgettable and touching solicitude for their well-being and growth in faith. He aimed at evangelizing his people, teaching everyone that they should make the Church their own.
On 5 March 1973, two years after taking over the see of Nairobi, Archbishop Otunga was created a Cardinal of the Holy Roman Church.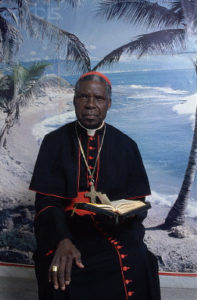 Cardinal  Otunga never tired in showing his fatherly care for the priests of his archdiocese. He always found time to write to them in a very personal way, manifesting his concern that they should be models of Christian discipleship to the faithful in their parishes.
In 1991, Cardinal Otunga became ill, and asked Pope John Paul II to resign. The Pope did not accept his proposal, but gave him a Coadjutor in 1996, in the person of Bishop Raphael S. Ndingi Mwana'a Nzeki of Nakuru, who would succeed him automatically at the time of retirement or death. The following year, he suffered a stroke which prevented him from further exercising his office as Archbishop of Nairobi. His Vicar General wrote on his behalf a second letter of resignation to the Pope, who this time accepted his resignation.
With a great sense of dignity and humility, Cardinal Otunga spent his final years at Nyumba ya Wazee, a home for the elderly in Kasarani (Nairobi) operated by the Little Sisters of the Poor, asking to live like any other patient in it.  There were those who objected to his choice and counseled that he should retire in a mansion or in the Vatican. The Servant of God explained his choice in this manner: "I do not wish to be a burden to anyone, nor to appear to have any other home or family apart from the Archdiocese."
As his health declined further in the middle of 2003, he was transferred from Nyumba ya Wazee to Mater Hospital in Nairobi. It was there that on 6 September 2003, consoled by the sacraments and the company of his brother-bishops and members of the faithful, Cardinal Otunga began his journey into life everlasting. On 19 September, thousands of mourners attended the funeral service for Cardinal Otunga at the Nyayo National Stadium. In observance of his will, Cardinal Otunga was laid to rest at St. Austin Church cemetery in Lavington (Nairobi).