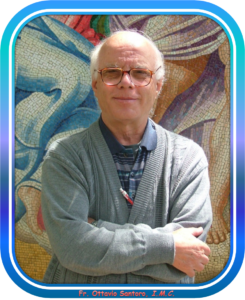 Born on 1st July 1933 in Martina Franca in the Province of Taranto in Italy.
He joined the Consolata missionary Institute and on 1st November 1952, he made his first profession at Certosa Di Pesio in northern Italy.
In 1954, he left for studies in the United States where he did the Final Profession on 1st November 1955 in Wasington DC. He was later ordained priest on 8th February 1958 still in Washington DC.
After the studies in the U.S.A., he was sent to work in Kenya where he arrived in 1959 and became an assistant parish priest at Kiriaini parish in Murang'a up to 1962. From Kiriaini, he was sent to Nyeri as the Vice Rector of the diocesan Seminary where he remained for one year. In 1964, he was a teacher in Kerogoya and the following year in 1965, he left for Sommerset, New Jersy in the U.S.A. for missionary appeal up to 1968.
Coming back to Kenya in 1969, he became the parish priest of Kaheti Parish in Nyeri up to 1971. The same year he became the Regional Administrator of the Consolata missionaries in Kenya, a task he held up to 1985. It is at this time that he emerged as a man with a very architectural mind and creativity where he realized so many buildings that today are admired.
From 1986 to 1994, he was the Administrator of the Catholic University of Eastern Africa where he realized the first buildings of this Catholic University. At the same time he built the Tangaza University College and the Allamano House for the theologians of the Consolata Missionaries.
Having enjoyed a long and admirable friendship with the Servant of God Maurice Michael Cardinal Otunga, he was requested if he could give hand in giving the Church of Nairobi and that of Kenya, a place for prayers and meditation. He accepted the invitation of the Servant of God and they bought a land in Karen where today stands the Resurrection Garden where each year, thousands of pilgrims from different religions and nationalities go for spiritual nourishment.
The works of the garden started in 1990 and in 1994, Cardinal Otunga officially opened the Garden to the Public and Fr. Santoro became the first Rector of the Resurrection Garden, a task he held up to his death.
On 19th September 1995, at the Conclusion of the AMECEA bishops celebrating the African Synod, Pope St. John Paul II visited the Garden and his presence officially blessed the garden and the surroundings.
From 2010, Fr. Santoro remained sickly and his life reduced to in and out of the hospital. On 13th November 2015, he was admitted in the Aga Khan Hospital in Nairobi where he was recovering in the ICU up to the morning of 18th November 2015 when he had a heart attack that ended his earthly life and opened another life for him without end.